SIGN UP FOR TWITTER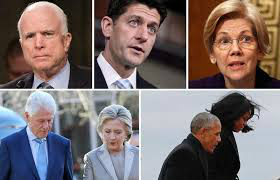 Wednesday, 5 July:
First of all, a big thank you to our readers; you have visited this site over 5,000 times in the 18 weeks it has been online. We seek no financial contribution, nor fame. Just a quest for the Truth, and the unique opportunity the Trump presidency offers.
Already more truth has been revealed in six months than in the last six years.
The articles posted here are just a slice of what is really offered. The sources we use are often tweets received through a deep pool of specially selected sources ranging from news organizations (both real and 'fake') to the Department of Defense.
So, as part of your day you might enjoy following us on Twitter:
There might even be a laugh or two...